There is no doubt that MS Office is the king and a complete product package and whenever you need to type an article or create a presentation, the first thing you will search in any system is MS Office. Your employer may provide you a full licensed version of MS Office suite and it comes pre-installed in your laptop or desktop. But what about for general home users. Well Microsoft used to provide a one-time lifetime license for their old Office products versions, but this scheme of license distribution has been expired recently. Ever since companies are going towards cloud storage and services, a trend of subscription based license is now adopted by them. Some laptop vendors also provide MS-Office apps bundled with their devices, but usually they will expire after 1 year of usage and you have to bear the cost going forward.
MS Office subscription plans
But today I am not here to talk all about MS Office. I am here to give you a quick introduction about an absolutely free application that is available over the Internet. So if you want to save a ton of your hard earned money, simply read this article till the end.
LibreOffice

The LibreOffice is a free and open-source office suite which has been on the market since 2010. It is available free to download over different platforms like Windows, MacOS, Linux, Android or iOS. The product is also available in more than 115 languages.
How to download LibreOffice on your computer
Go to www.libreoffice.org
Click on download now and choose your OS platform before downloading.
Run the downloaded installer
LibreOffice official download page
So the downloading was simple and you may notice that LibreOffice doesn't prompt you to sign-in anywhere before you start using the product. It is because there is no sign-in required and all your work will be saved locally and can be accessed without the need of active internet connection.
Products
The version which I have downloaded and installed is LibreOffice 7.0.1.2. Once installed, click on LibreOffice icon on your desktop and you will be welcomed with different products.
Writer Document
Calc Spreadsheet
Impress Presentation
Draw Drawing
Math Formula
Base Database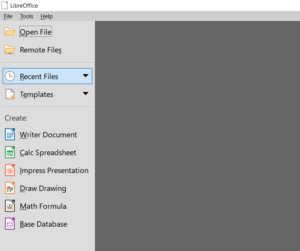 LibreOffice welcome screen
Writer, Calc and Impress and Base are basically similar to your Word, Excel, PowerPoint and Access respectively. Drawing is used basically for vector graphic designing and can be viewed as an Microsoft Visio, Adobe Illustrator or CorelDraw alternative. While Math Formula is an application designed for creating and editing mathematical formulae.
1- Writer
LibreOffice Writer is a word processor with functions similar to Microsoft Word. You will easily find all your basic tasks such as font and paragraph styling, inserting shapes, setting the page size and layout or performing a quick spelling and grammar check.
LibreOffice Writer
2- Calc
LibreOffice Calc is a spreadsheet program similar to Microsoft Excel. There are various tools available like conditional formatting, creating pivot tables, inserting charts or graphs. The formulas writing and structure is similar to MS Excel. While I found the Macro functionality limited. The same VBA code which ran successfully on MS Office will not work in LibreOffice Calc application. So if you are an advanced user you may need to research over the internet to write your own macro in Calc.
LibreOffice Calc
3- Impress
LibreOffice Impress can be used to create presentations. Similar to Microsoft PowerPoint, users can also use different slide layouts settings, slide transitions, object animation to create their ppts in Impress. There are different file formats available to save your work and ppts can be exported to PDF or JPEG as well.
LibreOffice Impress
4- Data
LibreOffice Base is a relational database management system, similar to Microsoft Access. It allows users to easily create, access, modify and view databases and their data. Users can work on four main tools: Tables, Queries, forms and reports. You need a Java Runtime Environment to run LibreOffice Data successfully. The latest version can be downloaded and installed from here.

LibreOffice Data
Creating a table in LibreOffice Data
Personalizing LibreOffice
There are chances that few of the users reading this article have given a try to LibreOffice, but they didn't like it. Why? because you will immediately notice a few things that might not look visually correct. That is all because we are so much familiar working in the MS Office environment, and if someone is coming from there, they want less time exploring a new software and more time on actual working.
Like many software LibreOffice app environments also needs some initial one time setup. This one time setup will bring your experience more closer to MS-Office apps.
User Interface
The first thing we will change is the user interface. By default the toolbar appearance is set at the standard toolbar, which by the way is also very good to start with. But if you want to make it more like MS Office toolbar, go to View> User Interface> Tabbed. This will bring various options into different tabs, just like MS Office ribbon at the top.
How to enable Tabbed user interface in LibreOffice
Font Preferences
Now here you will notice that the default font is set at Liberation Sans, which you may want to change. The problem with a different font is when you share a file with someone else they will not be able to read the contents of files. Everything will be gibberish for them. And since most of the world users are working in an MS Office environment, you can set the default font to Calibri, which is also a default font in MS Word.
Now to set your default font in LibreOffice Writer document, go to Tools>Options. Expand LibreOffice Writer and then select Basic Fonts(Western). On the right pane, change the font and font size you wish for. Now click and Apply and then Click OK.
Setting default fonts in LibreOffice
Now every time you open a new document, the default font and font size will be preloaded with what you have set earlier.
Color Personalization
LibreOffice also provides some level of color customizations. To do so, click on Tools>Options and expand LibreOffice. Select Personalization. On the right pane you will see some pre installed theme, select any one and then click Apply and then click OK.
LibreOffice theme setting
File saving formats
One of the most important things while you are working on productivity tools is its ability to save files in different formats. And if you want to share your files with others you may want to change the default file extension appended at the end of file name.
In LibreOffice, the default file extension with which a file is saved is .odt, .ods or .odp (Open Document). But to change this extension, again go to Tools>Options. Then expand Load/Save and select General. In the right pane select the required value in Document Type and Always save as dropdown. For e.g .docx is a widely used file format for text document, .xlsx for spreadsheets and .pptx for office presentations.
Changing default file saving format in LibreOffice
There are a bunch of various options available in this Options menu which you can customize and to make more comfortable with the LibreOffice app environment.
In the End
So now you can see that LibreOffice provides a robust suite of office products that is completely free for use. The developers community are very active and provide regular updates to the applications. However the LibreOffice developers and community members are not under any support obligations. It is an open-source platform, where service and support is based on community help and forum discussion. So if you need some urgent assistance you may need to wait for your issue to get answered in a forum. You can do your own research patiently over google where most probably you will find a similar issue and its resolution being faced by another user.
Another feature where LibreOffice is lagging is the absence of cloud based services. Because of cloud services Microsoft Office users have the option to view or edit their files across any platform including smartphones, tablets.
Anyways what lagging in LibreOffice usually can be achieved by adding apps or add-ons. Files can be shared using free cloud services like Google Drive, OneDrive or sent through an email client like Windows Mail or Thunderbird.