There is no doubt that MS Office is the king and a complete product package and whenever you need to type an article or create a presentation, the first thing you will search in any system is MS Office. Your employer may provide you a full licensed version of MS Office suite and it comes pre-installed in your laptop or desktop. But how to get it for a general home users? Well Microsoft used to provide a one-time lifetime license for their old Office products versions, but this scheme of license distribution has been expired recently. The one time license purchasing is still available but with very limited Office applications. Ever since companies are going towards cloud storage and services, a trend of subscription based license is now adopted by them. Some laptop vendors also provide MS-Office apps bundled with their devices, but usually they will expire after 1 year of usage and you have to bear the cost going forward.
Today in this article you will get to know how you can use Microsoft Office applications free or using an affordable license buying option.
Microsoft Office WebApps
Microsoft provides web based applications to access their most popular products. The web based application of MS Office products are really powerful and resemble their desktop versions. You will find no difference in user experience and almost all the functionality and features can be found in web apps. The features which are missing are slowly getting added by the Microsoft team. So if you happen to miss your favorite section, tool or functionality, you can always provide your feedback to the developer team. Access to MS Office web apps are entirely free and requires users to register at office.com. Here is how you can access Office web apps:
1- Go to office.com and click on Sign in on homepage.
2- On the next page, enter your outlook, live or hotmail email id and the password to login to the Office.com. If you don't have an account create a new one by clicking on 'Create One!' link.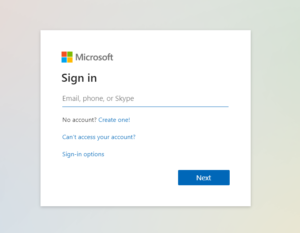 3- Once you are logged in to your account, you will have access to different Office apps.
From here you can quickly create a new Word, Excel or a PowerPoint presentation document by clicking on the plus icon on the left hand pane.
Office.com provides below apps which can be accessed free by users:
Calendar
Excel
Family Safety
Forms
OneDrive
One Note
Outlook
People
Power Automate
PowerPoint
Skype
Sway
To Do
Word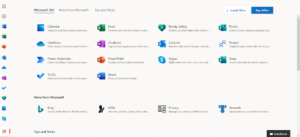 You can also save your online documents to your PC or you can upload office files on web apps to read or edit the file contents. Collaboration is also easy since files can be shared directly with other users by inputting their email ID in file sharing option.
Office Web Apps can also be accessed by using the Office app, which is pre-installed in most of the laptops. If it is not, you can get it freely in the Microsoft Store on a Windows PC.
Once you have installed it, open the Office app and login to your office account. You will have the similar interface to the office.com website and all your files and folders created on Microsoft online portal will be visible in the Office desktop app. The same office app can be installed in your smartphones as well. Office apps on Android or iOS provide limited functionality compared to the online portal. Once logged in with an office account, you can create new files or can do some basic editing or formatting over your smartphones. All your files will be automatically synced across all platforms and will be saved over the cloud.
By far you must have guessed that accessing office.com portal directly or via Office app requires an active internet connection. Well it's 2020 and everyone is connected to the Internet most of the time. So it shouldn't be a problem for you.
Microsoft Office for Students or Education professionals
Microsoft provides free licenses to educational institutes or universities. Educational institutes have tie up with Microsoft and they purchase licenses in bulk for their students and faculty members. So if you fall into this category, you can contact your school or college to get a free license. Users need to have a valid school email address to get started with different Office products which also include additional classroom tools.
Using this method, users can login to office.com by their school email id and then can download the Office desktop apps directly on their PC. Thus they can use the product offline with all the features and functionalities.
See
for more details.
Microsoft Office for Professional users
If you are already an employee of an organization where you are using a full licensed version of Microsoft Office apps, you can install them on your home PC too (provided that your organization allows login at home using your work email Id). At your home device, once you are logged at office.com using your work Id, simply click on 'Install Office' button on the homepage. Thus you can download desktop versions of different office apps on your home PC.
Buy an older Microsoft Office version online
Since Microsoft has now adopted subscription based license issuing, many users may not find it beneficial for them. Some users occasionally work on Office files and don't want to pay monthly or yearly basis. So good news is you can still buy a one-time license of old Microsoft Office versions. The following method is an affordable option to get the Office license.
Companies usually bulk order licenses from Microsoft for their employees but not all of them are used. So the unused keys are resold outside at dirt cheap prices. You will find many websites and sellers on online retailers like Flipkart, Amazon or Ebay, selling these keys at very low prices. These keys can be used one time to activate older versions of Microsoft Office. But these keys have a low success rate and before you buy, you have to research and investigate the seller on your own. So pay your money wisely.
Buy officially through Microsoft Office Website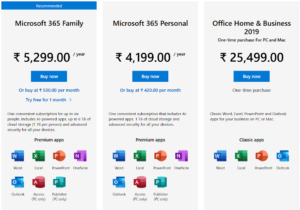 Once you have gone through all the free options and the affordable option, in the end if you want to go you can purchase the Microsoft Office 365 application. Once purchased you will get unrestricted and full access to all Office web apps and desktop applications whether it be your PC, tablet or any smartphone. Above is the current subscription plan being offered by Microsoft.
Office Home and Business 2019 is still available for one-time purchase at Rs 25,499. This includes classic apps like Word, Excel, PowerPoint and Outlook and should be sufficient for most of the users.
While Microsoft 365 Family starts at Rs 5,299 per year and Microsoft 365 Personal starts at Rs 4,199 per year. If you are a free user, you will get only 5GB of online cloud storage. But with Family subscriptions users will get 6TB (1TB each for 6 persons sharing the subscription) and 1TB in Microsoft 365 Personal subscription plan.
Update May 2021: Users can now buy Microsoft Office standalone version for a flat price, no monthly/yearly subscription required.
Buy Office Home & Student 2019 which is available at Rs. 9,199 while Office Home & Business 2019 at Rs. 27,999.